Cockapoo FAQ's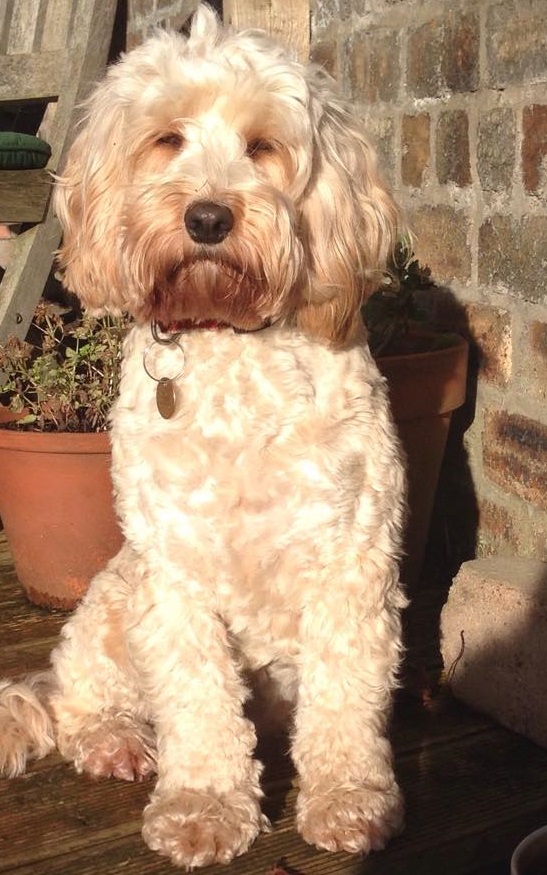 Do Cockapoos require much grooming?
You must keep your Cockapoo brushed on a regular basis or the hair will become matted. The hair varies from dog to dog, but brushing frequently will insure that your dog always looks well groomed. As your puppy matures to an adult, he/she will require clipping.
Do Cockapoos shed much?
Because they have Poodle in their lineage, most Cockapoos have little-to-no shedding; however, some Cockapoos do shed more than others. Most people with pet allergies are not bothered by Cockapoos, but if allergies may be a problem, you should try to expose yourself to a Cockapoo before you make the final decision to purchase one. Before 6-7 weeks, it is not likely that a breeder will know how much a puppy will probably shed.
What are their temperaments like?
Cockapoos are highly trainable with a keen intelligence. They are curious and eager to perform. They usually do well with one-person owners as well as families with young children. They are very people-oriented, outgoing and happy dogs. Cockapoos are a very loving and playful breed. The mix of Cocker Spaniel and Poodle has brought out the better of the two breeds. They are "people" dogs and don't like to be left alone for long periods of time. They do well in a country environment and also in a flat, as long as they are given lots of attention. They LOVE people!
Are they good with children?
Yes! Most Cockapoos do extremely well with children and have an easy-going personality. They want to be around people and are very affectionate and intelligent pets. However, training is VERY important, especially in a home with children.
Do you only breed F1 Cockapoos?
Most of our Cockapoo puppies are F1(first generation cross between a Miniature or Toy Poodle and a Cocker Spaniel). From time to time, we also breed F1b Cockapoo puppies which come from an F1 Cockapoo mum bred back to an unrelated Miniature or Toy Poodle. F1b Cockapoos have a higher infusion of Poodle within their lineage, which generally means that their coats are completely non-shedding and allergy friendly.
What size are your Cockapoos when fully grown? 
Miniature Poodle x Cocker Spaniel – 15-17 inches to the shoulder. Toy Poodle x Cocker Spaniel – 13-15 inches to the shoulder.
Which type of Cocker Spaniels do you breed from?
We breed from Working Cocker Spaniels. Our breeding girls are all Kennel Club Registered from some of the most prestigious bloodlines.
Are Cockapoo puppies from a Working Cocker Spaniel more hyperactive?
In a word, NO! You will find that breeders who breed from show type Cockers will tell you this is the case. But I can wholeheartedly say that is NOT true. Cockapoo puppies which derive from both types of Cocker make fantastic family pets and I now breed only form working type Spaniels purely due to personal preference. A well-bred working Cocker should not be hyperactive, they should be biddable, attentive and keen to please. Obviously they are active in the appropriate circumstances, but in my opinion, that is one of their attractions. Combined with the Poodle genetics, I find that the F1 Cockapoo puppies from a working Cocker tend to be less active overall than their pure bred working Cocker parent. I started off with show type Cockers and I have bred Cockapoo puppies which have come from show-type dogs. I can honestly say that I have had far more health issues with them than with my working bloodlines. Health issues such as dry eye, spaniel mouth and grumpy temperaments, all things that I have never come across in the working type. Well, certainly not the bloodlines that I have here.
---
Cavapoo FAQ's
What is the difference between Cavapoos & Cockapoos?
The main difference is their size. Cavapoos mature to be smaller than Cockapoos. Their temperaments are very similar but Cavapoos are slightly less active.
Do Cavapoos shed much?
Most Cavapoos are non-shedding. Experienced breeders will be able to advise you of a puppy's coat type prior to purchase.
What are their temperaments like?
Cavapoos are affectionate, loyal and friendly little dogs. They love people and make ideal pets for both young and old.
Are Cavapoos healthy?
On the whole Cavapoos are extremely healthy! We only breed F1 Cavapoos which are a first cross between a Poodle and Cavalier King Charles Spaniel. The parent dogs should be health tested before being bred from. Any Poodles used should be PRA DNA tested clear and Cavaliers should be heart tested.
---
General Information
Are your puppies wormed and vaccinated?
Our puppies are fully wormed using Drontal Puppy suspension every 2 weeks from birth. We recommend that this is continued until your puppy reaches 12 weeks old and then wormed every 3 – 4 months or as recommended by your vet. Our puppies will be fully veterinary health checked and will receive their first vaccination before leaving us.
Male or Female – which make the better pet?
Both male and females make excellent pets. With Cockapoos & Cavapoos excellent temperaments, it is purely personal preference.
What health testing do you do on your breeding stock?
Our Miniature and Toy Poodle stud dogs used within our breeding programme have passed all of their health clearances. This includes genetic testing for PRA so that we can be assured none of their progeny can ever become affected by this condition. They are also VWD tested and Patella tested.
Our Cavalier King Charles Spaniel girls are heart tested before being bred from. We only ever breed from girls with clear hearts which have no sign or murmur or MVD.
We provide copies of parent dog's health clearances within our puppy information pack.
Are your Puppies well socialised?
Yes, our pups are born in our home and are extremely well handled from a young age. They are used to the hustle and bustle of a household, as well as other dogs, cats and other animals.
What do you feed your puppies?
We feed our pups on "Royal Canin Mini Junior Complete Puppy Food"
Do you hold a waiting list?
Yes. When pregnancy is confirmed on a specific litter, we will take five reservations per litter.
How old are you puppies when they leave for their new homes?
Generally our puppies leave us at 8 – 10 weeks. They have their veterinary health check and vaccination around 7 weeks of age and are ready to leave us a week later. We never let our puppies go under the age of 8 weeks.
At what age can we view the pups?
Our pups can generally be viewed from 5 weeks old.
What do you provide in your puppy information pack?
We provide you with a copy of your puppy's health care/vaccination card, copies of the relevant health clearances for their parents, a small amount of food, a scent blanket or toy which smells of their familiar environment, information on their worming schedule and some information on basic training.
What is Hybrid Vigor?
The theory of hybrid vigor suggests that as a group, dogs of varied ancestry will be healthier than their purebred counterparts. In purebred dogs, intentionally breeding dogs of very similar appearance over several generations produces animals that carry many of the same alleles, some of which are detrimental. This is especially true if the dogs are closely related. This inbreeding among some purebreds has exposed various genetic health problems not readily apparent in less uniform populations. Mixed-breed dogs are more genetically diverse due to the more haphazard nature of their parents' mating. "Haphazard" is not the same as "random" to a geneticist. The offspring of such matings might be less likely to express certain genetic disorders because there might be a decreased chance that both parents carry the same detrimental recessive alleles.