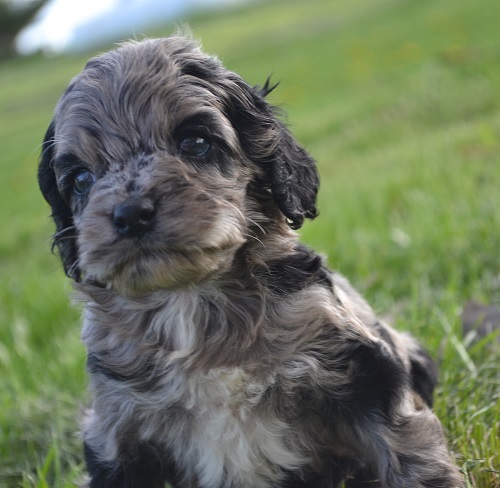 Firstly, I can't believe it's February already! Where does the time go?
So, with our Summer breeding plans now well underway, I am ever hopeful that we might have the pitter patter of 'merle' paws this year. Merlot, our Merle Poodle, although still young, has had a couple of breedings with two of our girls. It is still early days, but everything crossed that we will have both merle cockapoos and cavapoos in the not too distant future

This is particularly exciting for me as I have waited years to introduce merle into my breeding programme. Personally, I think merle Cockapoos & Cavapoos are absolutely stunning! Merle is a term used to describe the unique markings/pattern which appears on the dogs coat. The merle pattern is extremely striking and fairly unusual. Quite often merle puppies will have a blue eye, partial blue eye or even two blue eyes.
In addition to having merle puppy plans, the waiting list will open shortly(please keep an eye on the Planned Litters page) as we will hopefully have some Cockapoo puppies in Chocolate, Black & Apricot ready around late May and into June. Also Fox red and Apricot cavapoo puppies too. Please check back for more details soon!